"How much does it cost to make a video?"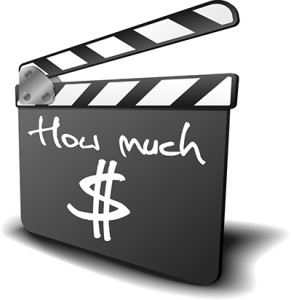 With almost 30 years in the business, I have heard this question more times than I can count. But because each video is made to order, a better question might be, "How much (or what kind of) video can I make for my money?" Let's take a look at the best ways to maximize your budget.
Asking how much a video costs is like asking how much a house costs. The number of bedrooms and bathrooms or the number of garage bays can impact the costs dramatically. Details like "Marble or Corian counter tops?" and "Union or Non-Union talent?" add up quickly. You get the idea. Just like building a house, it is helpful to have a ballpark budget to start with. This will allow the project architects to determine how to incorporate your "must haves" and your wish list. In media production, a good account executive and/or producer can help you to define these lists. Discussing your target audience, your message, and intended results will ensure that we are creating a blueprint for a project that fits your needs. Why build a Mother-in-law suite if you're not married? Put that money into a patio & pool area or save it for something else like a new car (your next video project). Maximizing your budget is all about allocating your resources most efficiently to achieve your goals.
Even after you have determined specifically what you want, it is difficult to compare costs. The craftsmanship that goes into building one house can be quite different from that of another builder. Quality is not measured in units or hourly rates. Cheap construction will generally look cheap. The same is true for production. Experience is essential. You want to work with a production company who has been there before and will be there after the project is done. This means archiving your assets, delivering the finished product in the proper formats for distribution, or making additional revisions/versions years later. Just like finding a quality builder, look for company history, examples of past work, professional awards, and client references. Protect your investment and maximize your budget by working with a quality video contractor.
What if you have no idea of what your budget should be? Your best bet is to work with your architect (account executive) to determine specifically what you want/need. They can show you the associated costs and make recommendations as to the best approach to the project. All of this is done in the Pre-Production stage. The blueprints (written treatment, script, etc.) are reviewed and approved before construction (production) begins. There is no bigger waste of resources than to build something that isn't needed or that needs to be deconstructed and re-built in a slightly different way later. Proper planning will avoid this. Be sure that you are maximizing your budget by creating exactly what you need.
What else can you do? Just like the person who wants a custom home built, there are some steps that you can take to eliminate costs. If you have professional experience in communication, advertising, marketing, etc. you can act as your own architect. Creating your own "blueprints" allows you to choose your contractor (production company) with a clear shared understanding of the project. You can also eliminate some of the potential pre-production costs like: subject matter/audience research, creative, scriptwriting, storyboarding, casting, etc. Depending on your project, you may also be able to save money on post production/editing. By reviewing timecode footage and providing the editor with selected timecodes, you can save significant money in the editing stage. This is like doing some of the finish work or painting yourself. It is time consuming and requires skill. Some people have the time and expertise; others prefer to hire a professional to do it for them. Either way it is up to you to know your skills and limits.
Maximizing you production budget is easy to do. Allocate your resources specifically to achieve your goals. That requires clearly defining your audience and project goals. Partner with a professional company with experience that you can trust. That means they have been there before and will be there later. Create exactly what you want/need. The key here is quality pre-production planning. Know your skills/limits. You can determine which things you prefer to do yourself, and which are best left to the pros.
Whether you goal is to create a cabin or a castle, an internal video or international broadcast program, maximizing your budget is as easy as "building" on these four recommendations. For more information or to speak with one of our "architects" visit BrainstormMediaInc.com or call 614.299.5611.